Contact Cardiff ...
Cardiff Clinic
Duffryn Bach Farm
Pendoylan
Cowbridge
Cardiff
CF71 7UP

Tel: 01443 225010
Fax: 01443 225387
Office Hours
8:30am - 6:00pm Monday - Friday
Please note Bank Holiday and seasonal opening hours may apply.
Cardiff Clinic
The Cardiff clinic covers the majority of South Wales. Our team of five experienced mobile vets can be found on the road covering an area stretching from Chepstow over to Bridgend, Cardiff up to the valleys, providing all aspects of regular as well as advanced equine veterinary care. For routine work such as vaccinations and routine dental examinations you may want to take advantage of our zone day scheme.
From our Cardiff clinic we have a team of highly qualified equine vets that are on hand to offer the best possible care for your horse, pony or donkey. We provide a full first opinion mobile service covering all aspects of veterinary care from routine vaccinations, dental care and health checks to lameness examinations and reproductive work. We also offer radiography, endoscopy and ultrasound scanning either at your yard or at your local clinic.
A fully equipped equine mobile visiting service.
Preventative healthcare packages.
Wide range of modern diagnostic equipment.
Fully equipped equine dental service.
Lameness and poor performance investigations.
Mobile X-rays, Ultrasound, Endoscopy, Gastroscopy.
Pre-purchase examinations – vettings.
Riding school inspections.
Equine exports.
Field surgery including castrations and advanced wound management.
Vets 24/7
Cardiff Zone Map (click to view larger version)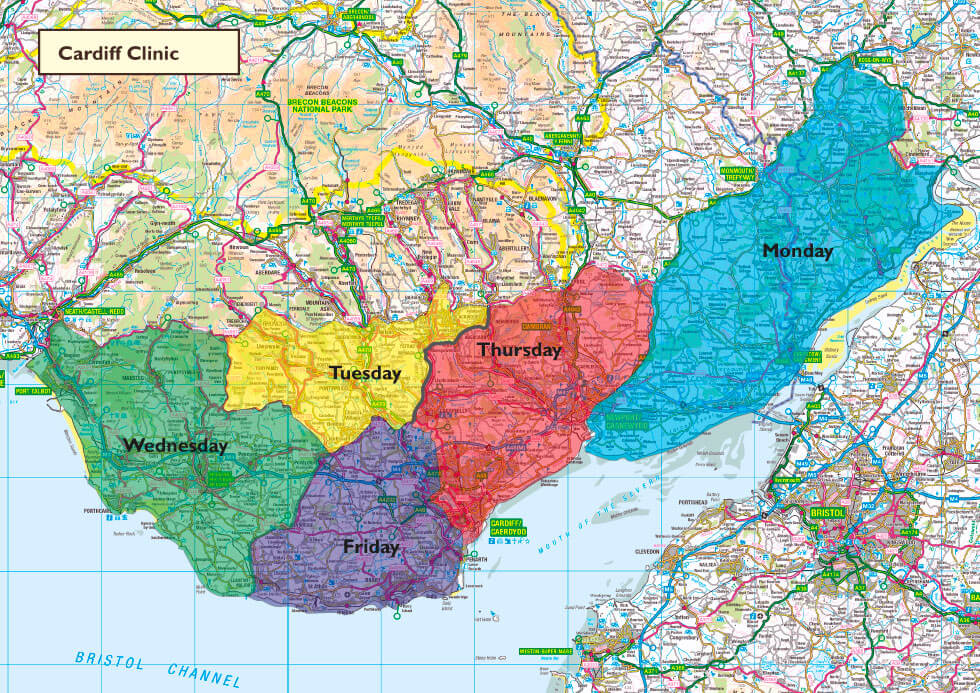 How To Find Us